Kanazawa remains one of the nation's top fresh seafood sellers annually. People are keen to the freshness of the local markets that indicate its high quality. Fish raised in the raging waves of Sea of Japan have firm flesh, making for superb sashimi.
Sacchan's Recommendations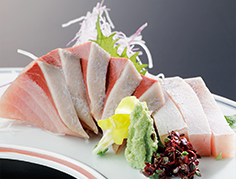 Buri (Yellowtail)
Buri, yellowtail, is the most popular winter fish in the Hokuriku region, with different names according to its stage of growth. Buri caught from end of the winter to the early spring are called kan-buri and treasured for their fatty and firm flesh. The fatty belly melts in in the mouth with an exquisite flavor.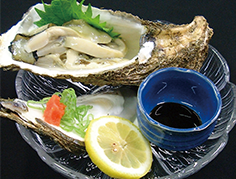 Rock Oysters
Rock oysters from the Noto peninsula are summer seasonal and available in Kanazawa. Compared to other kinds of oysters, Noto rock oysters are large and have unique tanning and a rich, creamy texture. They're also so highly nutritious that they are often called "milk from the sea."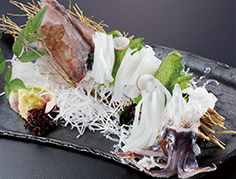 Squid
Kanazawa's bounty includes many varieties of squid: Surume-ika (Japanese common squid) in spring, aka-ika (swordtip squid) in summer, aori-ika (oval squid) in autumn, and yari-ika (spear squid) in winter. Squid sashimi is enjoyed for its elastic texture.